WOMEN HAVE TONS OF CONSUMER POWER so why don't we have tons of power?

You may have noticed my September posts have a curiously recurring theme:
Why I didn't blog all summer.
I usually have a pretty decent excuse, like editing a memoir manuscript. Or succumbing to the siren call of the pond.  (If you don't think vacation is a valid use of time, you should read this and see this.)
Well, this summer I was doing my small part for the Feminine Renaissance (oh yes, it's so ON—did you get the memo?) editing some choice content for viiv.tv.
One side effect of this work on my own psyche was the dusting off of my furled notions of feminism (they'd been taking a back seat to my eco-fervor, which happily is 100% compatible with feminine values like sustainability and everything-is-connected-ness) and asking new questions about women today—post-ERA, post-Feminine Mystique, post-Beauty Myth—in business, politics and the media.
What will it take to make a cultural, structural and ideological shift towards true gender equality?
Why is there such a gap between how we're portrayed in the media and how we are (and aspire to be) in the real world?
When will "feminine" qualities like empathy, generosity, vulnerability, cooperation and contextualized "WEB" thinking be integrated into every successful venture in every corner of the world?
Women have tons of consumer power. So why don't we have tons of power?
Are you wondering about this stuff, too?
So is viiv.tv. And they're getting answers.
What viiv.tv is:
viiv.tv is a new-media platform serving the $20 trillion "Female Economy." (Yes, it's true. The "Male Economy", in comparison, only drives $8 trillion annually across the globe).
viiv.tv aims to close the gap between women's enormous economic power and their actual influence in shaping the world.
What they do:
curate, produce and publish media

with a global worldview, designed to spark insight, innovation and social change

host a #FEMALEINFORMED salon-style think-tank series

THE LIVING ROOM

where the brightest and most curious minds explore the big, messy questions of global impact
hold POP-UP POPCORN PARTIES showcasing game-changing media in NYC, SF and LA by female filmmakers and producers from around the globe

shine the spotlight on businesses helping women in real, tangible ways

like equal pay, flex-time, on-site childcare and C-suite representation

believe all consumers deserve to know which brands truly support women

so they can support those brands right back—with their attention, loyalty and dollars (Imagine seeing the "pro-women" equivalent of an "organic" or "LEED" symbol on our favorite brands and products.)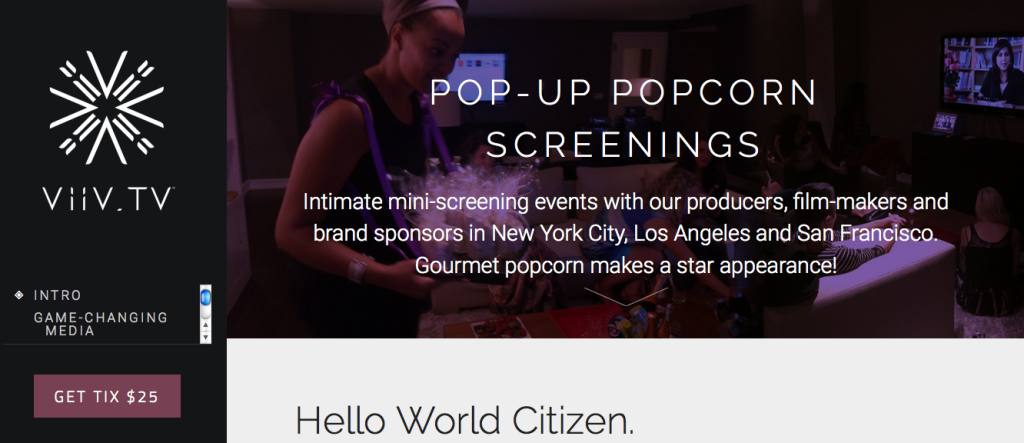 In case you were wondering, you don't have to be a woman to subscribe to viiv.tv (or the viiv philosophy).
You just have to be awake to the fact that valuing women—and "feminine" values—can make the world a richer, healthier, better place for everyone. After all, these values can be found anywhere, at any time, in businesses and organizations and people with all manner of X and Y chromosomal combinations!
Right now, we're in the middle of intense prototyping at an incredible San Francisco incubator. If you'd like to be part of this important process, we have a few questions we'd love your thoughts on. Your time, candor and wisdom will help make viiv.tv more meaningful, useful and fun.
Want to know more?
Click here and subscribe, and send an email hello to: hello@viiv.tv
Then maybe think about where to go on your next vacation … Mexico is so nice this time of year.