Do you ever feel like the planet is going to hell in a handbasket, and there's nothing we can do about it?
Like you just want to throw in the towel, recycle your recycling bin and hit the drive-thru (in an SUV) for a factory-farmed burger (with a side of pesticide fries) and a hormone-laced milkshake (in a BPA-lined cup)?
I know what you mean.
It's hard to stay positive in a climate of deniers and doom and gloom.
But before you trade in your Prius, take five minutes to watch The Soil Story. Finally, some good news about reversing climate change!
It turns out the soil—the very skin of our planet—could also be the answer to saving the planet.
That's right….soil.
It's not sexy but it's effective, it's gaining momentum and it just might give you reason to be optimistic again.
The carbon balance

We know carbon is a leading cause of global warming, right?
Well, it's actually not that simple. The problem is not carbon itself, but too much carbon dioxide in the atmosphere.
There has always been a delicate balance of carbon in our air, our soil…and in ourselves. After all, carbon is essential to life.
The problem starts when that delicate balance gets thrown off, as it has since the industrial revolution.
We humans have upset the balance by extracting too much carbon out of the ground, where it's been minding its own business for millenia. Burning coal and oil, as well other practices like industrial farming, spews millions of tons of CO2 into the atmosphere every day and speeds up global warming. Conventional farming alone emits a whopping 15-30% of annual global CO2 emissions—yikes!
So do we have to burn fewer fossil fuels? Do we have to change the way we produce our food?
YES and YES

But even if we halted all emissions tomorrow, we'd still have to figure out a way to restore balance to the carbon equation.
The dirt on soil
The question is: How do we get excess carbon out of the atmosphere, where it's polluting our air, killing our oceans, and heating up our planet—and get it back into the ground, where it belongs?
Answer: Carbon farming
Carbon farming —also called regenerative agriculture—is a method of farming that actually sinks carbon back into the soil. Carbon farmers use carefully planned grazing and compost instead of machines and chemicals. They work the land gently to avoid rustling up carbon stores. They increase crop diversity and crop rotation. They plant more trees and cover crops.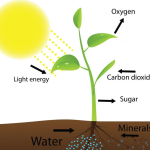 Then all those happy plants do their little photosynthesis dance, capture atmospheric CO2 in their leaves, and pump it back into the ground.
Carbon farming also creates healthier soil that can grow nutrient-rich crops faster and hold more water—a win-win for farmers, the economy and every person who needs to eat. Which is like, um, every human on this planet.
Healthy soil and healthy plants! Mother Nature's little carbon redistribution system. So simple and natural, we don't even need to develop any fancy pants new technology. We can do more carbon farming right now.
And we are, on a small scale in local areas. But to make a real impact on CO2 levels, carbon farming needs to go global, stat.
Want to give carbon farming a boost? Here's what you can do right now:
Learn more  If you have four minutes, watch

Soil Solutions to Climate Problems

narrated by Michael Pollan. Or pick up a copy of

The Soil will Save Us

for more in-depth scoop.
Buy organic 

Organic farming

and carbon farming have a lot in common, like composting, crop diversity, and more responsible use of the land.
Start composting  Carbon farms use compost to enrich the soil and increase plant production. If you're not sure how to start, or what you can toss into the bin,

my blog on compost

can help.
Go grass-fed  Not only is

grass-fed meat and dairy healthier

for you, it's better for the environment than industrial-farmed varieties.
Get grassroots  Support your local carbon farming initiatives. Buy their organic produce and products. Support

government policies

that help organic and regenerative farming practices.
Spread the word!  Because cooling the earth, creating a climate of hope, and renewing our will to save her….could be a simple as the soil.
The will to act is a renewable resource.
~ Al Gore in The Case for Optimism in Climate Change
2 Comments