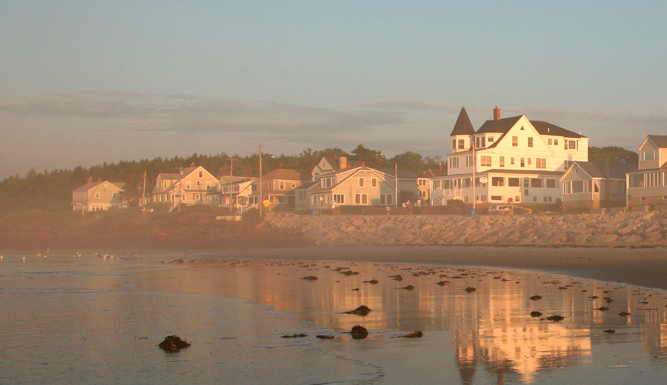 1. It's a trip back in time. Higgins Beach has the quaint flavor of a bygone era. Charming houses, just like Grandma used to have, line the shore. Kids ride scooters in the streets. Folks leave their front doors open and everyone is right neighborly. You can stroll to Higgins Beach Market  for ice cream and a dozen eggs. Enjoy the view from your waterfront rental  or third floor room of The Breakers Inn. Or just do a whole lot of nothing – that's ok, too.
2. Its artsy history. About a mile south of Higgins Beach is Prout's Neck, where Winslow Homer painted some of his most famous masterpieces. You can visit the historic studio where it all happened (be sure to reserve well in advance) then grab lunch at the Black Point Inn.  Just north of Higgins Beach is Portland Head Light, immortalized by Edward Hopper in his 1927 painting.
3. It's ten minutes from foodie heaven. There's a rumor going around these parts that Portland has more restaurants per capita than San Francisco. It's hard to confirm, but let's just say that food is a big deal here. The James Beard Awards just named Fore Street  an Outstanding Restaurant Semifinalist, and "farm-to-table" and "local" are the most common adjectives on most Portland menus. Find a restaurant to suit your taste in the Portland Press Herald Food Guide.
4. Your kids will forget the iPad exists. Every morning, they'll be itching to get to the beach pronto. The tide at Higgins Beach is ever-changing and there's always something new to discover, so kids of all ages will never get bored. At low tide, rocky tide pools emerge filled with rainbow colors of seaweed, hermit crabs, urchins, sea snails, and barnacles, and other critters. Giant puddles get warm in the hot sun and beckon little toes. The crescent-shaped beach stays shallow for yards, and the waves are usually tame enough for younger kids to tackle.
5. Lobstah. If the lobster police catch wind that you've failed to eat at least one lobster during your stay in Maine, they may lock you up with the rest of the landlubbers. Luckily the Portland area has plenty of spots to crack a few claws. My personal favorites: The Lobster Shack  in Cape Elizabeth for eating in, or take out at Docks Seafood in South Portland. Dipped in butter and accompanied by a nice potato, a steamy ear of corn and an Allagash ale – could be worse, right?