HOLIDAY GIFT WRAP Reduce, Reuse, Re-purpose
What do you remember most about your childhood holidays?
The smell of cider?
The snow crunching under your boots?
How about that pssssshhhhht sound of wrapping paper as you mercilessly tore it to shreds getting to the goods?
Yeah, that was pretty awesome.
But the environmental impact of gift wrap? Not so awesome.
Every holiday season, an estimated 2-4 million tons of wrapping paper and gift packaging get sent on a permanent holiday vacation – to the dump.
Most wrapping "paper" is made from virgin trees and treated with chemicals to make it shiny and bright. Or it's made with plastics and other compounds that can't be recycled or burned in your cozy holiday fire. That means almost all of it ends up in the trash.
The good news is there are a million ways to wrap greener, use fewer resources and harmful chemicals, and even have a positive impact on our planet.
Your best bet is to reuse or re-purpose stuff you already have on hand. To make this easy and convenient, create a "gift wrap bin"  and keep it in a handy location. That one you see there on the right is my bin, tucked away in the closet. I like to have a small separate bag floating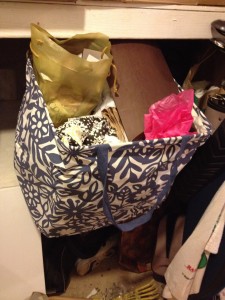 on top to stash ribbon, bows and the like. I rescue anything that survives the gift-opening frenzy and pop it straight into the bin. (Please don't judge me. My rescued wrappings certainly don't have hospital corners – I kinda just shove everything in there.)
Notice my bin is almost overflowing. I can almost guarantee you'll never purchase wrapping supplies again. (If you want to get really organized, you can even have a separate holiday-specific bin.)
A few more ideas to get you wrapping:
Reuse household paper and glass.

Newspaper, old maps, and brown paper grocery bags are all great choices.

Empty g

lass jars are perfect for jewelry and other small gifts.
Wrap with your kids' artwork. It's gorgeous. It's unique. But you have so much of it you'll soon be forced to rent it its own storage unit. Why not share it instead? Save the best, photograph the rest, and then promptly transfer to your gift wrap bin.

Get creative with embellishments

. Festive-ize and personalize with rubber stamps, poems, quirky quotes.

Cut up last year's holiday cards and reuse all those snowflakes and sleighbells. Borrow from the garden and tie on a few flowers, leaves or berries.

Choose fabric instead of paper

. Fabric may not make that satisfying pssshht sound, but it's infinitely more reusable than paper. Learn a bit of Furoshiki

,

the Japanese art of fabric wrapping (see feature image). If that sounds way too complicated, stock up on pretty pillowcases from your local thrift shop. Tie top with ribbon and voila – you're done!
Make wrapping a useful part of the gift. Wrap a kid's gift with a jump rope "ribbon". Hide your mom's present in a gorgeous scarf. House a hostess gift in a dishtowel or reusable grocery bag.

No wrapping necessary.

Support local businesses by gifting a spa service or movie tickets. Give unique experiences from websites like

Cloud 9 Living

. Or, for the person who has everything, how about a donation in their name to your favorite charity?
What are your green gift wrapping tricks or traditions?