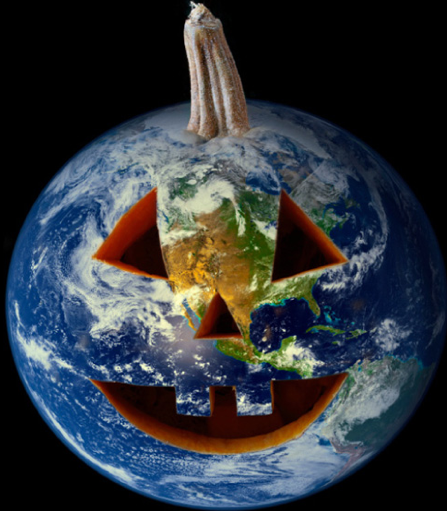 What's scarier than a ravenous zombie? More toxic than witch's brew?  Yes – It's Halloween! At least it can be, with the traditional piles of party waste, loads of costume chemicals and sacks of questionable candy.
The point of this post is not to throw one of the coolest holidays under the bus. Who doesn't like parties, dressing up and treats?
It's the way we do Halloween that could use a costume change. Greening your Halloween is easier than you think, and the key is to focus on what you do have, not what you think you're missing. In the wise words of the ladies behind Green Halloween, "The cardinal rule of successfully going green is presenting desirable alternatives."
So get creative. Plan ahead a bit. Keep all the fun, just reconsider some of your old standbys and habits. If we have a choice – and we often do – why not choose to carve out a healthier holiday?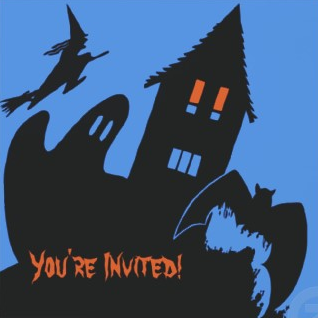 Planet-friendly party
Increase the green factor at your home, school or community event by:
Hosting a before-party costume (or Halloween décor) exchange
Buying pumpkins and natural décor from local farmers using sustainable practices
Choosing reusable instead of disposable tableware, cups, napkins and utensils. If that's not possible, buy recycled, reusable  (

Preserve

is a good choice) or compostable options
Using low energy

LED Halloween lights

Opting for beeswax or

soy candles

, which are cleaner burning than standard petroleum-based paraffin candles
Costume Change

These days, almost every store-bought costume is made with synthetic fabrics and plastics. Many are made with lead, arsenic and pthalates that can be absorbed through the skin and mouth (Dracula teeth anyone?)
If you prefer ready-to-wear, cut down on chemical exposure and rescue used costumes from landfill by borrowing from friends or buying from consignment/thrift shops. If you're the adventurous type, use your imagination with things you already have around the house, or make your own costumes from natural fabrics like organic cotton, felt and burlap.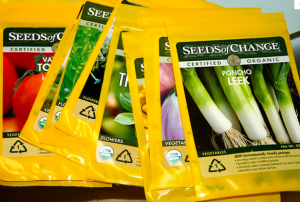 Tricky Treats
That photo of organic seed packets up there is not a design error. It's a visual cue to think outside the candy box. Even a ravenous zombie should lay off the stuff that's in most conventional candy. Melamine-tainted milk chocolate, trans fats, propylene glycol (aka antifreeze), and artificial flavors and colors aren't good for anyone's complexion.
Before you welcome trick-or-treaters to your door, learn a bit about the candy you buy. Think about what's in it, where it's made, how it's packaged. Some better brands to consider are Surf Sweets, Endangered Species Chocolate and Glee Gum.
Or don't buy candy at all. Your local grocer or online purveyor stocks goodies like:
Organic juice boxes or fruit leather
Organic granola bars
Snack-sized bags of organic cookies, crackers or popcorn
Paper stickers
Themed bandages
At the end of the evening, give your trick-or-treaters alternatives to consuming their spoils. Perhaps they are paid a visit from The Great Pumpkin, who leaves a gift in exchange for candy. For most kids, a trip to the organic ice cream shop, a book, or some other eco-gift or experience is a fair trade.
Green Halloween has details and many more tips. What are your favorite HallowGreen tricks?