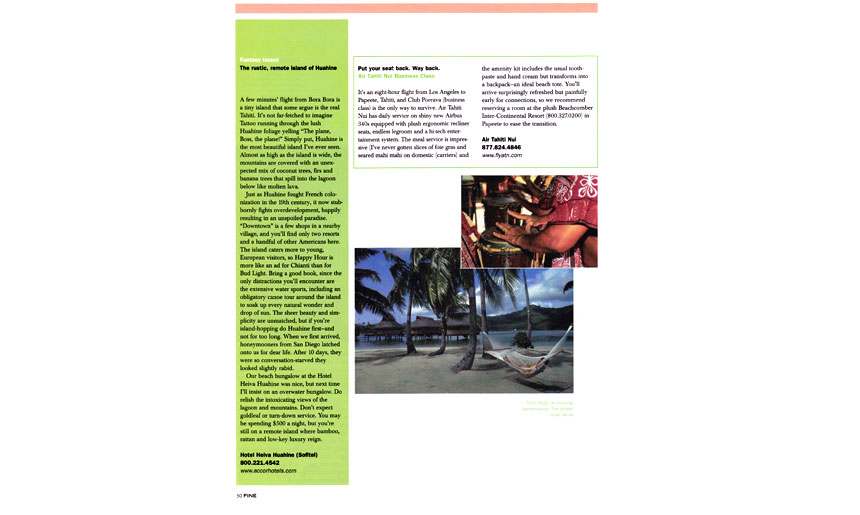 A few minutes' flight from Bora Bora is a tiny island that some argue is the real Tahiti. It's not far-fetched to imagine Tattoo dashing through the lush Huahine foliage shouting "The plane, Boss, the plane!" With mountains that tower almost as high as the island is wide, Huahine is draped with an unexpected fusion of coco palms, evergreen firs and banana trees that spill into the surrounding sea like molten lava.
Just as Huahine resisted French colonization in the 19th century, it now stubbornly tempers its development, happily resulting in an unspoiled paradise. "Downtown" is a handful of village shops, and you'll find only two resorts and scant other Americans here. The island caters to European hipsters, so Happy Hour more closely resembles an ad for a sophisticated Chianti than Bud Light at Spring Break.
Bring your lover and a good book, since the only distractions you'll encounter are the extensive water sports, including a canoe tour around the island to soak up every drop of sun and every natural wonder. Do insist on an over-water bungalow at the Hotel Huahine. Do relish the intoxicating views of the lagoon and mountains. But don't expect gold leaf or turndown service. You're on a deliciously remote island where quiet beauty and low-key luxury reign.