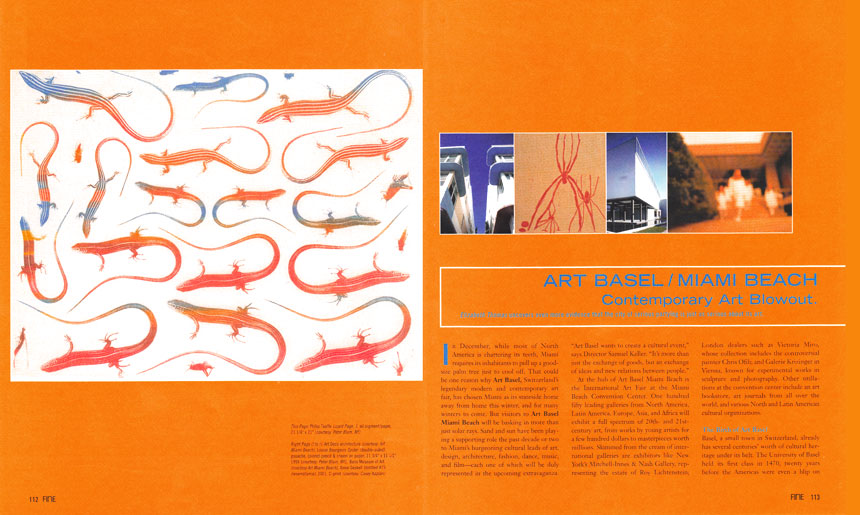 In December, while most North American teeth are chattering, Miami requires its residents to pull up a good-sized palm tree just to cool off. That could be just one reason why Art Basel, Switzerland's legendary contemporary art fair, has chosen Miami as its stateside home away from home. But visitors to Art Basel/Miami Beach (AB/MB) will be basking in more than just solar rays. Sand and sun have been playing a supporting role lately to Miami's burgeoning art scene. Art, design, fashion, music and film will each be duly represented in the upcoming extravaganza.
"Art Basel wants to create a cultural event," says Director Samuel Keller. "It's more than an exchange of goods, but an exchange of ideas and relations between people."
At the hub of AB/MB is the International Art Fair at the Miami Beach Convention Center. One hundred fifty galleries from all over the globe will exhibit a full spectrum of 20th- and 21st-century art, from works by emerging artists to masterpieces worth millions. Skimmed from the cream of international galleries are exhibitors like: New York's Mitchell-Innes & Nash Gallery, representing Roy Lichtenstein's estate: London dealers like Victoria Miro, whose collection includes the controversial work of Chris Ofili; and the experimental Galerie Krizinger in Vienna.
The Birth Of Art Basel
Unlike Miami, the small town in Switzerland already has several centuries of cultural heritage under its belt. The University of Basel was founded in 1470, twenty years before the Americas were even a blip on Columbus's radar. The Basel Kunst Museum, established in 1667, is one of the oldest art museums open to the public. Fast forward to 1970, when a pair of local gallery owners, Trudel Bruckner and Ernst Beyeler, gathered ninety galleries from ten countries and founded the first annual Art Basel. Art Cologne had debuted the previous year, and Bruckner and Beyeler wanted to follow suit with an international art fair in their neck of the woods.
For thirty-two years, Art Basel's focus has been on global modern and contemporary art, but decidedly skewed in favor of the European modern masters. Every year, the fair hosts almost 300 galleries and over 50,000 collectors, artists and media reps. By the time they break for a lunchtime bite of Bratwurst on the first day of the weeklong event, millions of dollars have already been spent on Picassos, Miros and Warhols.
Art Basel's ripple effect on the local art scene is unmistakable. The fair has been referred to as the "mother ship" of art, with many independent galleries and fairs gaining momentum on its apron strings. And the effect is reciprocal: Art Basel has been branching out philosophically and physically with its exhibitions. Last year, taking its cue from more progressive events that have successfully liberated Art from its fixed place on the walls of museums and galleries, Art Basel established the Art Unlimited platform for works that were too big or too nebulous to be contained at individual gallery stalls.
The Spawning of Art Basel Miami Beach
This year, Art Basel is expanding its global reach by partnering with Miami Beach. But Art Basel/Miami Beach is not simply an alternate location for business-as-usual. Because Miami is inextricably laced with Latin culture, AB/MB visitors will see more contemporary North and Latin America art. "Basel is the top of the top. But [it's] a European fair, and we are Latins," says Argentine collector Patricia Vergez. "We're looking forward to Miami Beach—when we come there, we'll be locals."
In the spirit of Art Basel's new philosophy, AB/MB has prepared a compelling collection of eclectic events called "Art Loves…" happening all around greater Miami. Art Loves Design features performances and exhibitions in Miami's neighboring Design District. Art Loves Architecture gathers panels of leading architects and collectors to discuss creating ideal spaces for artwork. Art Loves Fashion presents a Parisian-style haute couture show.
There were more than a few raised eyebrows when Art Basel first announced Miami as its host—New York, LA or even Chicago would have been obvious candidates. For many, Miami is still better known for its mile-long beaches and all-night bashes than its serious art scene. "Miami is still a young city, without a cultural image," says Nedra Oren of the Miami Art Museum. "Maybe [AB/MB] will help us to grow up." Art Basel could spur increased local support for the arts, the creation of new galleries, the influx of new artists and new interest in cultural tourism.
Of course, wherever Art Basel sets up shop, there will always be hard-core purists. "Going to Art Basel is the best thing I do with my life," says New York collector Steve Shane. "If Art Basel did [their fair] in Alaska, I'd go. The sun and beaches don't attract me because I'm serious about art." A dip in Miami's bathwater seas, a few cocktails and a contagious salsa beat, however, may be all it takes to convert the staunchest of collectors.